120 leads in 7 days – that's the kind of marketing campaign that's a game changer for business. And that's exactly what we did for this CoolSculpting Med Spa through our 3-Part Everable Marketing Framework…
First and foremost, let's break down what we mean by "leads." This includes actual form submissions, phone calls, and texts that are all unique (as in over 126 people individually made contact with the med spa and opted in to their offer - we'll talk about "the offer" below).
Now, let's talk about the process and how we managed to kill it for our client!
Within 24 hours of launching this med spa's marketing campaign, they got 20 leads.
This was pretty good for the first day, considering the med spa would only get between 7 - 13 leads a week, so both the Create the Bridge team and our client were pretty happy. Here's a breakdown of how we got those 20 leads in 1st day.
But what's even more exciting is that the success didn't stop there. Each day continuously brought in an insane amount of prospects. And before we knew it, our client had over 126 opportunities knocking at their door because of Cool FACTOR, which relies heavily on Facebook advertising. And this is just one reason so many businesses now choose to advertise through Facebook rather than any other outlet… like Google Ads or SEO. Take a look at 4 other reasons your med spa should do the same:
‍
And finally… let's break down the entire process that took our client to the next level. Introducing The Everable Method:
The Everable Method
We love working with med spas because we know how to create effective campaigns for them. Our program, , caters to med spas who want to double or triple their business and bring in tons of new CoolSculpting appointments.
Facebook ads
Audience
Capture
Traffic
Offer
Retargeting
All 6 of these strategies were used to generate the 120 leads in 7 days for our client. The Facebook ads highlighted the med spa's promotion at the time. Our client wanted to showcase 2 offers: 1 free CoolSculpting consultation or an $500 OFF 2 treatment gift certificate. Both are great deals. So with super niche Facebook targeting through their audience settings, an awesome image, and great text, the ads were total clickbait. From there, the user clicked on the Facebook ad and was taken to a landing page where they filled out their name, email, and phone number to redeem the offer. Here's a sneak peek of the page – but just a glimpse: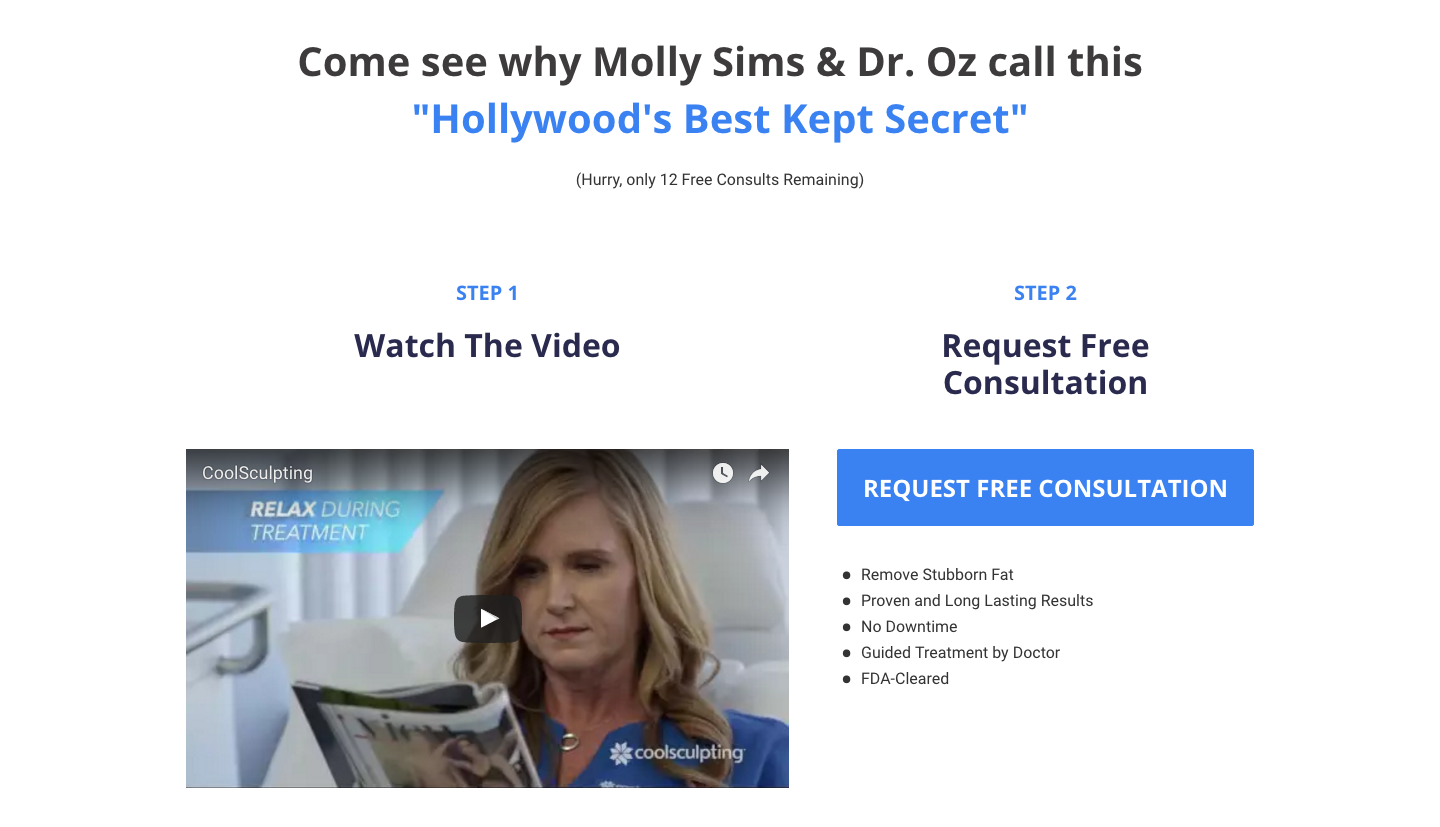 On the landing page was also a video of our CoolSculpting promotion and targeted the challenges the audience faced, getting rid of stubborn fat, for example. This allowed people to build trust by knowing we understood their problem.
So once someone opted in, they were taken to a thank you page and placed into our emailing list (MailChimp) that triggered the automation process. To confirm that the form submission was received, each consumer got an instant email with the promotion certificate – either the free CoolSculpting consultation or the $500 OFF 2 treatments. We were also sent emails of these leads so we could see the success, too.
The last part of the campaign was the retargeting. We wanted to make sure that whoever clicked our client's Facebook ad saw that offer again in their newsfeed later on. So if someone clicked the ad and decided they weren't ready to sign up for the CoolSculpting consultation or the $500 OFF 2 treatments on the landing page, that offer would follow them elsewhere online. And since users who are retargeted to are 70% more likely to convert, this was a huge part of the process.
So before we dig into the numbers of our client's campaign, check out our free demo to see an in-depth video of how the Cool FACTOR process was done specifically for this med spa.
THE NUMBERS
One week, one CoolSculpting Med Spa, one effective campaign… And it all resulted in this:
126 leads in 7 days
$0.63 Cost Per Click (CPC)
548 total clicks to their Facebook ads
$2.77 cost per lead
Not only did The Everable Method get our client more leads than they've ever received in any other week, but it gave more consumers exactly what they wanted – access to a great deal that provided high quality value, a simple process, and tons of personality. If you're a CoolSculpting Med Spa interested in gaining more members, you need The Everable Method.